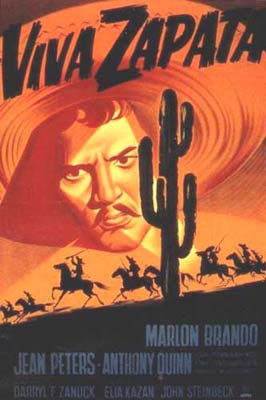 In 1909, Emiliano Zapata (Marlon Brando), a well-born but penniless Mexican Indian from a remote province, Morelos, comes to Mexico City to complain that their arable land has been enclosed, leaving them only in the barren hills. His expressed dissatisfaction with the response of the President Diaz (Fay Roope) puts him in danger, and when he rashly rescues a prisoner from the local militia he becomes an outlaw. Urged on by a strolling intellectual, Fernando (Joseph Wiseman), he supports the exiled Don Francisco Madero (Harold Gordon) against Diaz, and becomes the leader of his forces in the South as Pancho Villa (Alan Reed) is in the North. Diaz flees, and Madero takes his place; but he is a puppet president, in the hands of the leader of the army, Huetra (Frank Silvera), who has him assassinated when he tries to express solidarity for the men who fought for him. Zapata and Villa return to arms, and, successful in victory, seek to find a leader for the country. Unwillingly, Zapata takes the job, but, a while later, he responds to some petitioners from his own village with no more reassurance than had Diaz years before., Realizing that with power his idealism has gone, he returns with them to Morelos - specifically to investigate their complaints against his brother Eufemio (Anthony Quinn). New leaders take his place, and, egged on by the always surviving Fernando, they decide that Zapata is a threat to their regime.
Written by alfiehitchie

Cast of Viva Zapata!

| | | | |
| --- | --- | --- | --- |
| | Marlon Brando | ... | Emiliano Zapata |
| | Jean Peters | ... | Josefa Zapata |
| | Anthony Quinn | ... | Eufemio |
| | Joseph Wiseman | ... | Fernando |
| | Arnold Moss | ... | Don Nacio |
| | Alan Reed | ... | Pancho Villa |
| | Margo | ... | Soldadera |
| | Harold Gordon | ... | Madero |
| | Lou Gilbert | ... | Pablo |
| | Mildred Dunnock | ... | Señora Espejo |
| | Frank Silvera | ... | Huerta |
| | Abner Biberman | ... | Captain |
| | Florenz Ames | ... | Señor Espejo |
| | Richard Garrick | ... | Old General |
| | Fay Roope | ... | President Diaz |